British Virgin Islands Print Map
View the electronic version of our 2019/20 Skyviews BVI print map
About British Virgin Islands
The British Virgin Islands are located at 18º 30′ N, 64º 30′ W, a few miles east of the US Virgin Islands. They consist of the main islands of Tortola, Virgin Gorda, Anegada and Jost Van Dyke, along with over fifty other smaller islands and cays. About 15 of the islands are inhabited. The islands are of volcanic origin, except for Anegada, which is composed of limestone and coral. The total area of the islands are 59m² or 153km². Mt. Sage on Tortola is the highest point at 1,740ft or 530m.
Locals recount that Christopher Columbus named the island Tortola, meaning Turtle Dove in Spanish. In fact, he called it Santa Ursula y Las Once Mil Vírgenes (after the martyred Saint Ursula and her 11,000 Virgins), then shortened to Las Virgenes (The Virgins). The Dutch called it Ter Tholen and when the British took over the name evolved to the more pronounceable Tortola.
Fun things to do in the BVI: it's a great place for cruising and the yachting community. Go diving, whale, dolphin, bird and turtle watching, hiking and walk nature trails, visit places of historical importance and please savour the impressive granite Baths (in Virgin Gorda).
Local businesses
Going to the British Virgin Islands and wondering where to stay, what to do, where to eat and how to get around? We've got you covered with our list of hotels, restaurants, activities, car hire, shopping & more. Browse through for more details.
Accommodation
Choose from hotels, real estate, villas & cottages
Experiences
Try watersports, golf, scuba diving, tours & more
Restaurants
Lime at the bars, dine in the restaurants, take in the entertainment
Beach Bars
Services
Get information on the island, medical facilities & other services
Shopping
Shop for souvenirs, local crafts, art, jewellery, clothes & more
Transport
Hire a car, jeep, bicycle or scooter to travel around the island
Rentals
Events
Annual events
Jan
Feb
Mar
Apr
May
Jun
Jul
Aug
Sep
Oct
Nov
Dec
Events in March
08-Mar-21 to 08-Mar-21
Commonwealth Day (Tortola)
Public Holiday
Events in April
02-Apr-21 to 02-Apr-21
Good Friday (Tortola)
Public Holiday  A day of church services for all denominations throughout the island
04-Apr-21 to 04-Apr-21
Easter Sunday Horse Races (Tortola)
Public Holiday
05-Apr-21 to 05-Apr-21
Easter Monday (Tortola)
Public Holiday
Events in May
24-May-21 to 24-May-21
Whit Monday (Tortola)
Public Holiday
Events in June
12-Jun-21 to 12-Jun-21
Queen's Birthday (Tortola)
Public Holiday
Events in October
21-Oct-21 to 21-Oct-21
St. Ursula's Day (Tortola)
Public Holiday
Events in December
25-Dec-21 to 25-Dec-21
Christmas Day (Tortola)
Public Holiday
26-Dec-21 to 26-Dec-21
Boxing Day (Tortola)
Public Holiday
26-Dec-21 to 26-Dec-21
Boxing Day Horse Race (Tortola)
Public Holiday
History and Culture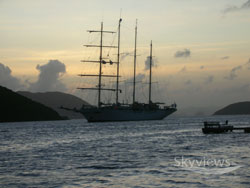 There is evidence of an Amerindian culture as far back as 1500BC, but it is known that the Arawaks, an organised peaceful group were on-island by 100BC and stayed until usurped by the fierce Caribs in the 1500's. Christopher Columbus sighted the islands in 1493 but never settled them, leaving it to the English, Dutch, French, Spanish, and Danish to then elbow for control of the region, thus creating space for the Golden Age of Piracy during the 1690-1730's, Blackbeard (Henry Morgan) being one such. The hidden bays and ideal sailing conditions made it attractive for such activities as well as 'privateers', but by the 1600's the British had firmly taken control.
The traditional music of the British Virgin Islands, 'scratch bands', is called fungi after the local cornmeal dish with the same name. Its unique sound is a fusion between African and European music, so important, that it is incorporated into the school curriculum!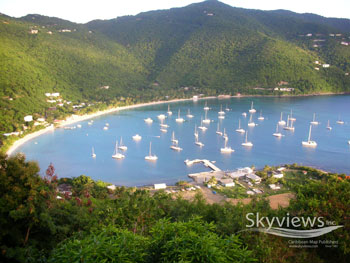 A New Era
Today, the BVI is a haven for the sailing community, with its calm waters, and steady breezes. It is also a financial haven with 50% of its income deriving from this sector, and is said to hold 45% of the world's off-shore companies. Tourism accounts for another 45% of its income. It is a British Overseas Territory with its own Parliament.