About St. Vincent & The Grenadines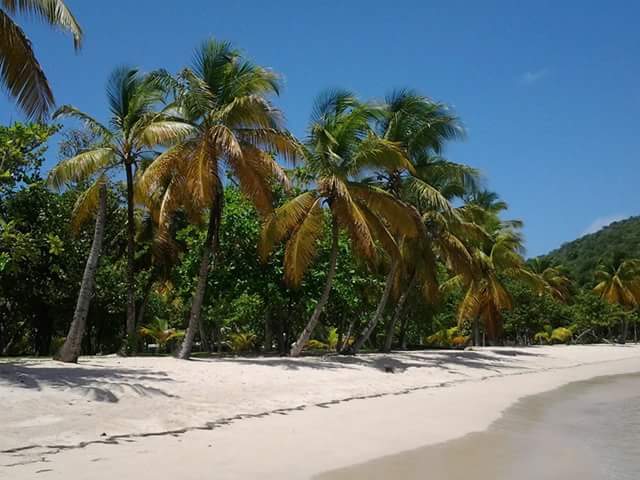 Located at 61° 12′W 13° 15′N in the southern portion of the Lesser Antilles, as a nation, St. Vincent & The Grenadines encompass the island of St. Vincent (133m² or 344 km²) and about two thirds of the cluster of small islands to the south (The Grenadines), covering a total area of 150m² or 389km². St. Vincent itself is volcanic, mountainous and barely inhabited in its interior, resulting in high density developments in more accessible areas. The island's highest point is Soufriere, an impressive 3,864ft (1,178m). It is a volcano that has erupted as recently as 1902 and again in 1979. St. Vincent was originally called Youloumain, and also Hairouna – which is now the close name of its main brew!
Fun things to do: diving, snorkelling, cruising, fishing, hiking, visiting places of historical interest as well as Pirates of the Caribbean film sites.
Local businesses
Going to St Vincent & The Grenadines and wondering where to stay, what to do, where to eat and how to get around? We've got you covered with our list of hotels, restaurants, activities, car hire, shopping & more. Browse through for more details.
Accommodation
Choose from hotels, real estate, villas & cottages
Cottages & Small Inns
Experiences
Try watersports, golf, scuba diving, tours & more
Air, Land & Sea
Restaurants
Lime at the bars, dine in the restaurants, take in the entertainment
Services
Get information on the island, medical facilities & other services
Community
Medical
Shopping
Shop for souvenirs, local crafts, art, jewellery, clothes & more
Groceries
Transport
Hire a car, jeep, bicycle or scooter to travel around the island
Events
Annual events
Jan
Feb
Mar
Apr
May
Jun
Jul
Aug
Sep
Oct
Nov
Dec
Events in January
21-Jan-2016 to 24-Jan-2016
13th Bequia Mount Gay Music Fest  (Bequia)
Various concerts
More information
20-Jan-2016 to 3-Feb-2016
21st Mustique Blues Festival (Bequia)
Being held in Bequia
Events in June
June
Bequia Carnival (Bequia)
24-Jun-2016 to 5-Jul-2016
Vincy Mas (St. Vincent)
The hottest carnival in the Caribbean'
More information
Events in April
28-Apr-2016 to 1-May-2016
Mayreau Regatta (Mayreau)
Not just sailing!
More information
Mar to May
Turtle Watch (Union)
Events in May
28-Apr-2016 to 1-May-2016
Mayreau Regatta (Mayreau)
Not just sailing!
More information
Mar to May
Turtle Watch (Union)
May
Maroon Festival (Union)
Traditional celebrations
Events in July
July
Canouan Carnival (Canouan)
24-Jun-2016 to 5-Jul-2016
Vincy Mas (St. Vincent)
The hottest carnival in the Caribbean'
More information
Events in December
16-Dec-2016 to 24-Dec-2016
National Nine Morning Festival (St. Vincent)
Indigenous unique pre-Christmas festival
Events in March
Mar to May
Turtle Watch (Union)
History and Culture
Pre-European History
First thought to have been inhabited by the Ciboney, an Amerindian, peace-loving, agricultural people. They were supplanted by the Arawaks, a more sophisticated group, traces of whom can still be seen in the petroglyphs at Layou and rock carvings near Akers. Eventually the war-like Caribs arrived and vigorously fought off any attempts at colonisation until 1719. In the meantime, in 1695 a Dutch slave ship was shipwrecked and a group of survivors climbed ashore in St. Vincent. In due course, they merged with the Caribs and a new race was formed, known as the Black Caribs. They, in turn, had children who became known as the Yellow Caribs and those later became known as the Garifuna (Cassava Eaters). The Black Caribs and the Yellow Caribs were intent on fighting with each other so eventually they decided in 1700 to occupy separate parts of the island to prevent further bloodshed.
The new arrivals…
The Caribs allowed the French to create some settlements, the British were not so favoured. After complex struggles between all parties, Britain finally took control from both the Carib and French, the Treaty of Versailles was signed in 1783 and the 5,000 remaining Caribs were deported to an island off Honduras. Only a smattering of Caribs remain on St. Vincent in the Sandy Bay area. Like the French before them, the British also used African slaves to work plantations of sugar, coffee, indigo, tobacco, cotton and cocoa until full emancipation in 1838. The result was that the economy declined; Soufriere blowing its lid and covering much of the farmland with ash was the final blow.
A new era
In 1925 a Legislative Council was inaugurated but it was not until 1951 that universal adult suffrage was introduced. Britain granted internal self-government to the island in 1969 and Vincentians became responsible for their own affairs. On Oct. 27, 1979 St. Vincent gained full independence within the Commonwealth from Britain.
St. Vincent and the Grenadines are characterised by stability and are known for their genuine hospitality towards both their neighbours and visitors from the rest of the world. Agriculture is the mainstay of the population, with banana cultivation being the primary produce. The fertile soil, particularly in the Mesopotamia Valley, is known to the surrounding islands as the Vegetable Bowl! Since the filming of Pirates of the Caribbean, tourism is opening up. The Grenadines have always been a favourite of sailors because of the calm waters, fantastic snorkelling and diving, and the delight of wading ashore on an islet.